When this page was originally written – some time in 2006 – ARM7 processors were all the rage. I wanted at the time to document some of the boards then available. Of course, now those boards are all essentially obsolete. ARM's Cortex-M architecture is smaller and more efficient – though the instruction set, at least for the ARMv7-M variants (Cortex-M3 and -M4) is pretty darn complicated.
I'm leaving, for history's sake, the images and links on this page.
But for current and future development, you would be much better served by looking at an ARM Cortex-M development board.
---
My ARM AEB-1 looks like this:
This is a relatively old board (from 1999 or 2000). It features:
256k SRAM (the two chips on middle left);
256k small-sector-writable Flash (lower-left, socketed);
a Sharp LH77790 (ARM 7DI core), 24MHz processor (center).
The processor has counters/timers/PWM, 2 serial ports, a watchdog timer, LCD interface, but no A/D or D/A. And, worst of all, it has only 2k of SRAM on chip (and a 2k cache); and because it has only a 16-bit-wide external bus, memory access, and therefore execution, is slowed.
It's real hardware though, and I've been able to use it to test my Forth code.
---
Now there are nicer choices, of both board and CPU. I'm excited about the Philips LPC2000 series of small, ARM7TDMI-based microcontrollers. They are tiny, fast, cheap ... and out of control!
The LPC213x seems like a nice mix of features:
60 MHz CPU in a tiny LQFP64 package
one (LPC2131/32) or two (LPC2134/36/38) 8-channel 10-bit A/D converters
single 10-bit D/A converter (LPC2132/34/36/38).
two 32-bit timers/external event counters (with four capture and four compare channels each), PWM unit (six outputs) and watchdog
low power real-time clock with independent power and dedicated 32 kHz clock input.
multiple serial interfaces including two UARTs (16C550), two fast (400 kbit/s) I²C busses, SPI and SSP
up to 47 5V-tolerant general purpose I/O pins
up to nine edge- or level-sensitive external interrupt pins
Read more about it:
There are several boards based on the 213x. Here are a few:
---
My new Olimex LPC-P2138 came today from Spark Fun Electronics. It cost me $70 plus $2 shipping via the US Postal Service! Here is what it looks like:
It's rather small: only 120mm x 80mm!
---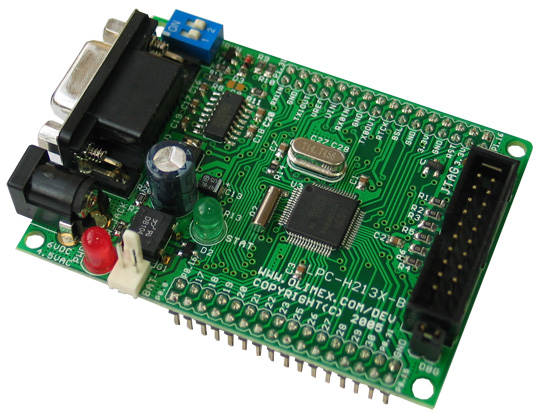 ---
For those interested in USB development, there are (at least) two interesting ARM options. A development board: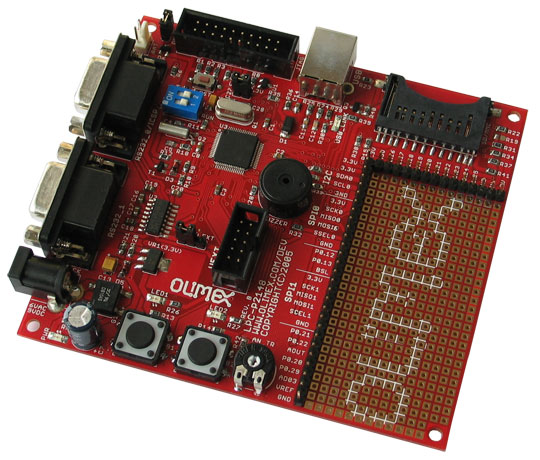 and a smaller, cheaper, header-only board: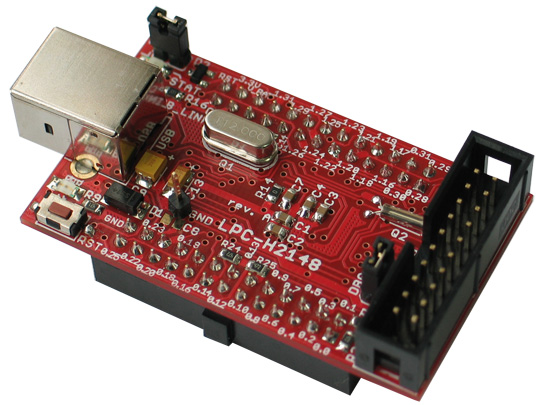 All these Olimex boards are available from Sparkfun.